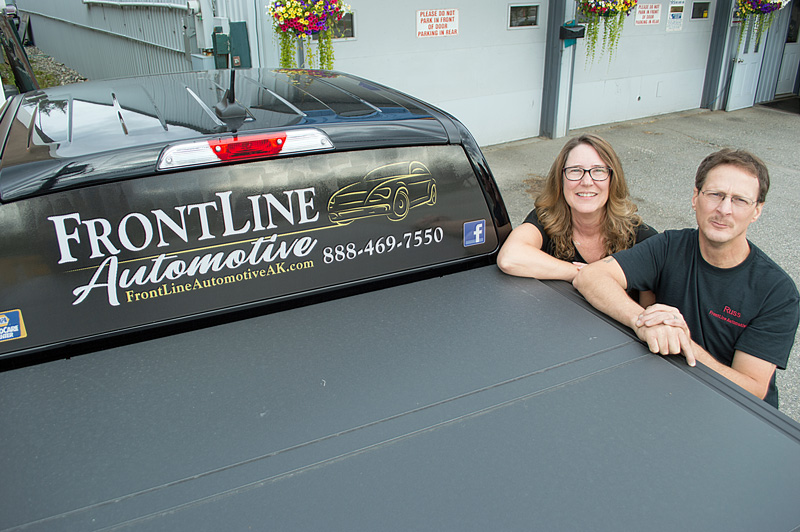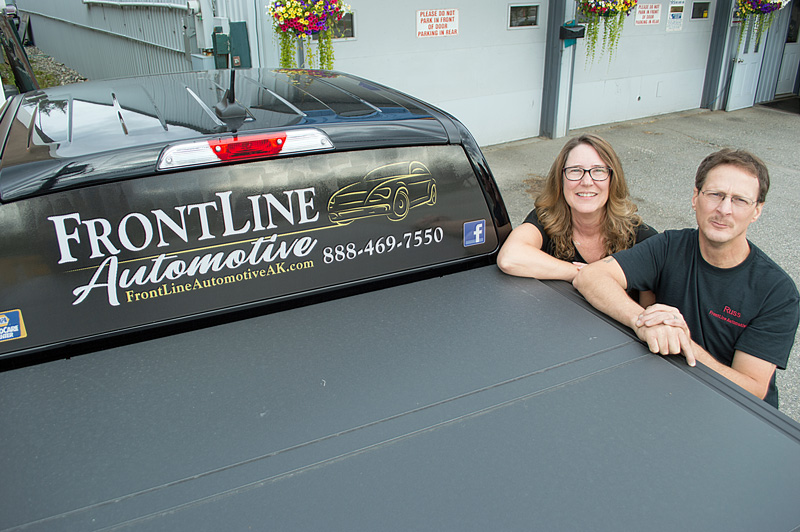 The Front End Shop opened its doors in 1984. Tony wisely based his business on the principles of providing the highest quality repair, along with excellent customer service. This legacy has continued through the years and is still in place today.
It takes a lot to be a good business owner. Including not only having top of the line equipment & technology, staying current on all certifications and trainings, but of course, also finding and hiring the right, trustworthy, people who reflect your vision for the business.
In January of 2017, Russ and Cindy Reason took over as the new owners of The Front End Shop and in 2020 they changed the name to FrontLine Automotive. They are dedicated to growing reputation of excellence. Being hard working people all their lives, Russ and Cindy value hard work, dedication, and quality work.
Russ and Cindy are long time Fairbanksans, with a deep love for Alaska and Fairbanks in particular. Cindy graduated from Lathrop High School in 1984, worked as a travel agent for 13 years, and in the banking world at Denali State Bank for 14 years, where she gained her management training. She loves helping people and getting to know her customers.
Russ grew up in farming and developed a lifelong history of building, restoring, and racing vehicles. He served many years in the USAF, four of these years he was assigned here at Eielson AFB. He left the Air Force in 1995 and began working with Napa Auto Parts in North Pole. Russ then went on to work for a couple other auto repair and tire companies, and for eight and a half years, worked as a heavy equipment mechanic with a local mining company just prior to purchasing The Front End Shop (now known as Frontline Automotive).
In 2019 Frontline Automotive was recognized as Alaska's Napa AutoCare Center of the Year 2018. This is a distinct honor for us and would not have been possible without our hardworking and dedicated staff. We are also a Napa Gold AutoCare facility that gives our customer that next level of quality service and repairs. The team that we have in place now will continue to provide the quality service we have been known for since 1984.
We want to thank the loyal customers that have shared some of this history with us and we want to invite new customers to please stop in and give us a try. We will make your experience enjoyable and get to know you and your vehicle over the years to come.
We provide every customer with outstanding professional service, highest quality parts and products, in a clean, orderly, and friendly place, where the concerns of our customers are treated with utmost respect. We strive to leave every customer feeling trust, value, and friendliness, confident of a job well done and the desire to return and experience it once again.
If you are looking for a local auto repair shop you can trust, consider Frontline Automotive. Since 1984, we have been providing our friends and neighbors in Fairbanks, North Pole, AK, Ft. Wainwright, AK Army Base, and the entire Fairbanks North Star area with dependable, trustworthy auto repairs. Whether your vehicle needs automotive repair service or chassis, alignments, and suspension work, our service technicians are skilled at diagnosing and pinpointing solutions to problems, which can save you valuable time and money.